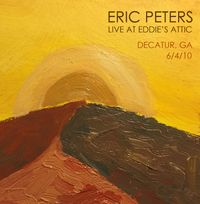 Recorded live on June 4, 2010 at famed Eddie's Attic live music venue in Decatur, GA. This is a PWYW (Pay What You Want) download.

My Patreon supporters received this a month earlier. Consider being a Patreon supporter to get early access to this and other offerings!
Art prints are now available. Each print measures 11x14 in., on 180lb. matte paper, custom trimmed, and signed. Please allow 1-2 weeks for delivery.
Order HERE.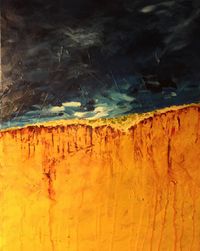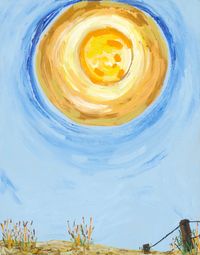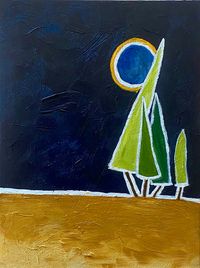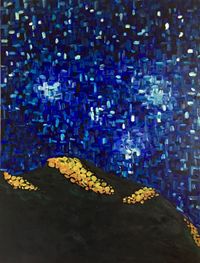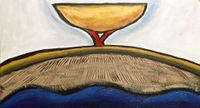 "Patreon is a subscription-style payment model in which fans pay their favorite creators a monthly amount of their choice in exchange for exclusive access, extra content, or a closer look into their creative journey. This model is a win-win; creators retain creative freedom while getting the salary they deserve, and fans get to rest easy knowing that their money goes directly towards creating more of what they love."
Your patronage allows me to continue making visual art and music that I hope has a light touch and adds a fraction of beauty to the world. THANK YOU for supporting me in my work as an artist. Click HERE to consider being a patron.
Searching For Bobby Fischer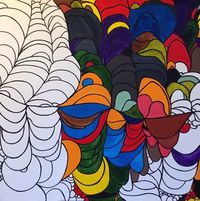 Someone asked me how I was after the events of yesterday, January 6, 2021. I intended a short reply, but wrote this instead.
Last night, I opened a bottle of white wine and drank too much of it as I cooked and ate dinner in front of the television. Needing a break from the news, I was relieved to find "Searching for Bobby Fischer" on Netflix. *SPOILER ALERT* One of my all-time favorite movies, I watched as this gentle, normal and unassuming 7-year-old boy chess prodigy (Josh) defeat accomplished peers and adults alike. As he continues winning, Josh's natural instincts of gentleness and compassion never dissolve. And in a world that demanded the destruction and humiliation of one's competition, some perceived those traits as weakness, a lack of "killer instinct," a shortcoming in his character. When, in the final scenes, he "sees" guaranteed victory, albeit yet unforeseen by his competitor, Josh rises from his seat and offers out his hand in a draw, a tie -- peace -- because he holds no ill-will to this perceived "threat," has no desire to embarrass or humiliate his very worthy opponent, a young boy of similar age. It is a gorgeous, tender scene.
Beauty.
Yesterday, while watching the disturbing news footage of the capitol siege, I thought of our recent return trip to Nashville from Louisiana, after having spent the holidays visiting family. Less than an hour into the drive, our car's brake warning light came on, so we stopped in a WalMart parking lot to try and figure out the problem. An older man approached the car, as I had the hood up, and offered to help. That, in and of itself, would have been kindness enough. But it turned out he was a retired mechanic, and ran a brake repair service for most of his life. He had just moved back to Louisiana from Arkansas to be near his aging family. He explained what I needed to do to fix the brakes (bleed the lines of any air), and having never done that, I asked him to repeat the steps (I need lots of hand-holding) to make sure I understood the process. Instead, sensing my hesitation, he offered to do the task for us right there on the tarmac parking lot of the Amite, Louisiana WalMart. He grabbed his tools and proceeded to bleed the brake lines of all four wheels, for which my incredibly difficult job was to pump and press the brake while seated in the comfortable driver seat while he lay on the unwashed tarmac, underneath a low-clearance vehicle not jack-lifted off the ground: a tight, dirty, uncomfortable job. At one point, I noticed he lay in the bled brake fluid, a victim of his own kindness. He then followed us to the nearest auto parts store, made sure we topped off the brake fluid reservoir, and waved us along with his best wishes. Danielle and I scraped together as much cash as we had, and gladly offered it all to him (I SO wish I could remember his name). He rejected any pay of any sort, saying instead that his only requirement was that we "pass it along," that we stop to aid someone in need when at once that moment appears. I asked if he listened to music, and sheepishly handed him a few of my water-wrinkled CDs that D kept in the car, and off we drove.
There are plenty of dark, awful, sinister, unpleasant stories out there today. There were yesterday and there will be again tomorrow. But those are not the only stories begging to be told. Listening is imperative to be able to hear, to decipher them from the chaos of the loud and sinister being flung about like a careless, violent, merciless tornado. I have experience with both. Beauty, it turns out, is always quiet, compassionate, and gentle, and willingly lays in the mess of its own kindness. Beauty, like chess great Bobby Fischer who suddenly disappeared from the public eye and went into hiding, is not easily found. God loves you, and there's not a damn thing you can do about it. Bless you all, and have mercy today, yesterday, and again tomorrow.