Ha Ha 2020
---
Sorry folks, I wish this year hadn't been so boring and dull and uneventful. Snails have more fun. Hilarity aside, from tornadoes to politics and pandemics, I personally cannot wait to say Ha Ha to 2020.  I've cooked up a few new things for your edification. I can't promise happiness, but if you would like to join me in bidding adieu to this memorable-for-all-the-wrong-reasons year, I'm offering some new products to equip us all. 
1. A REMIX of "Ha Ha To the Old Year" from my 2012 album, "Birds of Relocation." I've been listening to nothing but delicious pop music lately. As I had been wanting a fresh take on an older song, I asked a friend, mixologist Jeremy Bose, to have at it, go all 80s, and turn it completely around. For now, this new remix track is available exclusively here on my web site. I hope you like it as much as we Peters do. This was really fun to do.
2. HOODIES. High quality, front zip, comfy, snuggly, and warm.  Because who doesn't need some comfort right now.  Wrap yourself in a hug from yours truly.
3. MUGS.  Each mug is handmade and sized to hold a mighty generous portion of coffee or (FILL IN THE BLANK). You'll receive no judgment from me.
4. T-SHIRTS - Two new color combos to choose from.  None of us had a choice about a lot of what has befallen us this year, so I personally hereby give you options when it comes to sprucing up your wardrobe with garments telling the old year what it can go do to itself.
5. EARTH HAS NO SORROW CDs - You all funded this project while my family was reeling from the destruction of our home on March 3. The songs were released digitally earlier this year, and I'm now getting the physical CDs manufactured for my Kickstarters (you've been so patient). If you would like to purchase additional copies, you can order those right now.  
Please note, all of these items (except the remix) are currently in manufacturing, so allow some extra time for me to get them shipped out to you. 

Thank you for your supremely kind and generous support for me, my family, and my art this year. If ever there's been one, this year has certainly been one for perching on hope's repair. God bless you, and I mean every word of that.
---
The Goods: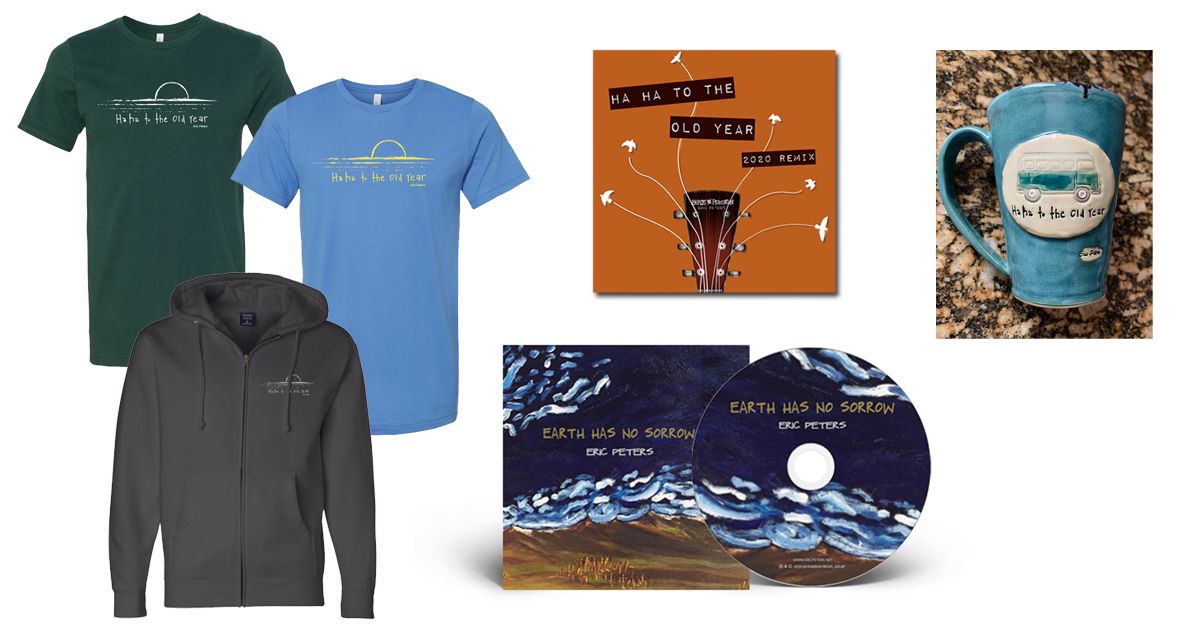 Not available
Solid Charcoal with Light Gray print 2020 "Ha Ha" design 10 oz., 70/30 cotton/polyester blend fleece with 100% cotton face Generous fit Fleece lined hood Split stitch double needle sewing on all seams Twill neck tape 1x1 ribbing at cuffs and waistband Nickel eyelets Full Zip Tearaway label
Read more…
close
Out of stock
Second edition now sold out.
Each mug individually handmade by artist Amy Hines. Lead free clay and glaze. Food safe.
Read more…
close
Forest Green with White print 2020 Ha Ha Design 4.2 oz 100% airlume combed and ringspun cotton Tear-away label Not available from manufacturer in extended sizes - Sorry, I'm working to remedy this!
Read more…
close
Columbia Blue with Yellow/Gold print 2020 Ha Ha Design 4.2 oz 100% airlume combed and ringspun cotton Tear-away label
Read more…
close